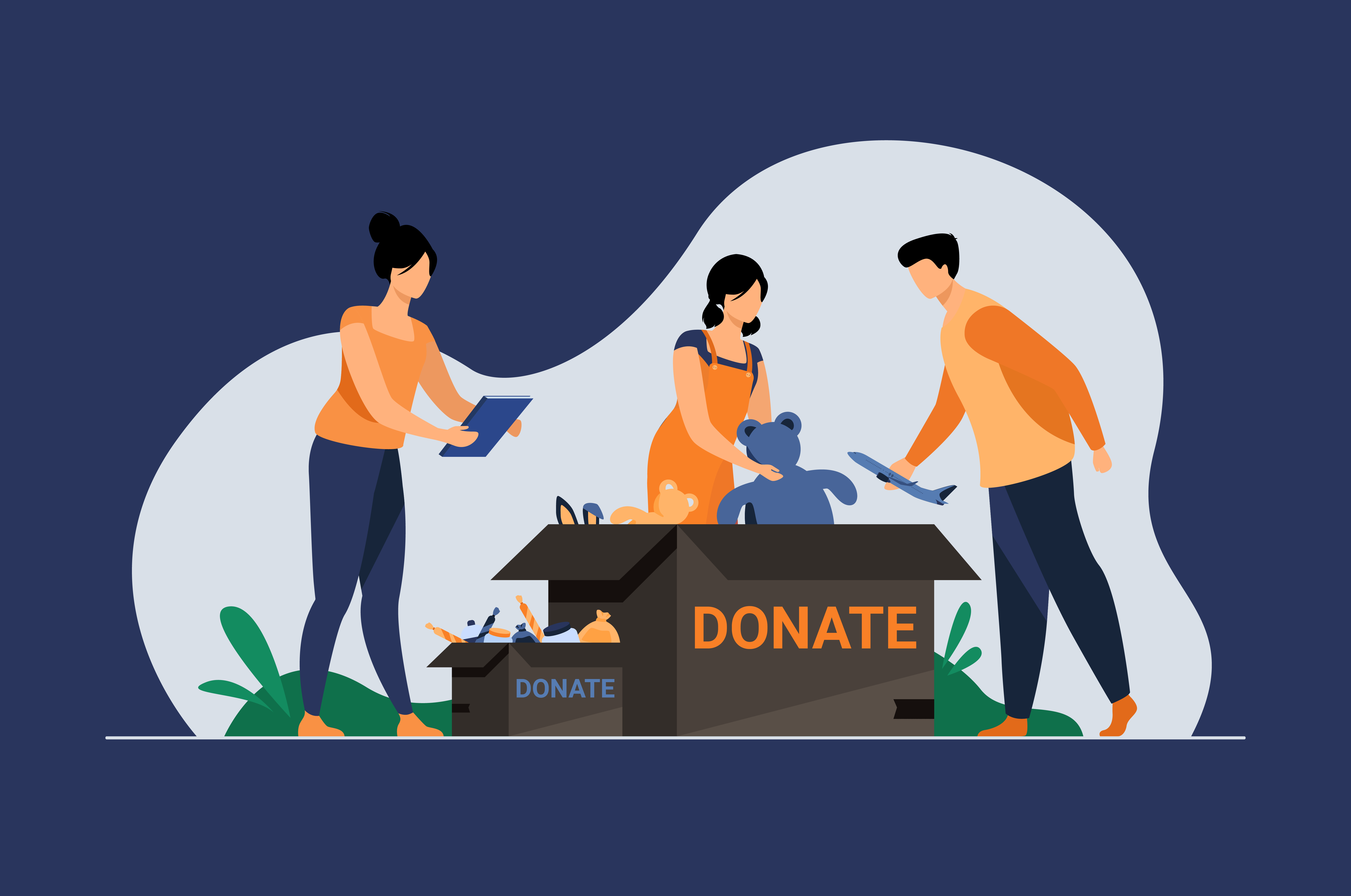 June 7, 2021
Why We Believe In Charity?
THE PURPOSE:
Charity is the deed of extending your sympathy and care to those around you without any conditions attached. It is a conscious effort towards betterment and compassion without the expectation of a reward in return. Charity is always a one way act, if it is not one way then it cannot be charity. However, there are many things that a person receives when they partake in the action of charity. To our surprise, in the end of the day, it is the charity giver who ends up reaping most of the benefits of this act.
"You have not lived today until you have done something for someone who can never repay you."
― John Bunyan
It is precisely due to the nature of this action which makes it soulful and esteemed. Some people believe that charity begins at home while others claim that it is birthed from the heart; as you feel this longing of giving to those who are less fortunate, it may begin at home, but eventually it will spread out and extend in to the society. For the act of charity, it is necessary that a person starts with an inward recognition and understanding of a desire to show empathy to others whether this act is done consciously or unconsciously. Any person who has spent time contemplating about life, understand that every single person in this life has problems, goes through multiple troubles, and grief of one form or another. Charity is initiated when a person who even with their own personal problems, learns to downplay their own issues and concerns in an attempt to extend kindness, care, and love to help others. Allowing others to pick themselves up and make a positive change in their life. Therefore, some people put their own misery on the side line to relieve others from their suffering.
"One of the most important things you can do on this earth is to let people know they are not alone."
― Shannon L. Alder
IMPORTANCE OF CHARITY:
The greatest present that a person can give to the community would be to contribute towards the betterment of the society as a whole, in an attempt to make lives better for all of humanity. Touching the lives of others, by a gentle indentation caused by donations or charity, it would spread an illuminating light to the neediest people and enlighten our minds during the process.
"There is no exercise better for the heart than reaching down and lifting people up."
― John Holmes
It is not possible for us to turn a blind eye and suspire deeply with a sigh of relief; pretending that we are prospering when the data shows otherwise. The official report of the Economic Survey 2017-2018 explains that the poverty rate in Pakistan is 24.3%. These people are living below the official poverty line, which means that they do not have access to the basic human necessities like food, shelter and safety, clean drinking water, and even proper clothes. That's not all. The proportion of employed individuals who have the purchasing power parity (PPP) below $1.90 per day is 2.3 percent, reported in 2019. This translates into poor living conditions even when the person is employed. To top it all off, in 2019, the unemployment rate was a staggering 4.5%, as reported by the Asian Development Bank basic statistics of 2020. The rate of employment and the salary that people earn, both have a drastic impact of how well people do in their lives and whether they have enough opportunities to make a significant change in their lifestyle over time. People constantly report not visiting a doctor in case of an illness to avoid the cost of medical consultation and instead, they resort to self-medication. The general public fears that there will be an increase in the medical costs in the years to come and it is estimated that the poorest of Pakistani's are deprived of basic human needs. These data evidences make it difficult to overlook the living conditions of the people around us and urges us to do what we can to support the livelihood of the people of our community.
On the other hand, there are many NGO's that have been initiated around the nation to support many different causes that the country is faced with. These organizations are usually staffed with volunteers who are completely dedicated to bring some level of improvement to the lives of the under privileged, poor or homeless individuals. These NGOs are putting in a lot of effort in understanding and fixing the issues faced by people and trying to cater to these concerns with the help of financial and non-financial aid. According to the Pakistan Centre for Philanthropy (PCP), an organization that provides certifications for non-government organizations and other charity institutions, there are around 100,000 to 150,000 NGO's that are active in Pakistan at the moment. According to these numbers, PCP reveals that there is at least one organization for a cluster of every 2,000 people. Although this may seem like a good news, it must be noted that many NGO's and charitable organizations shut down due to the lack of financial backing. These organizations may not survive if the community is unwilling to contribute to make a difference.
"Love is not patronizing and charity isn't about pity, it is about love. Charity and love are the same – with charity you give love, so don't just give money but reach out your hand instead."
― Mother Teresa
These NGO's are usually divided into education centers, medical centers, women and children protection programs, rehabilitation centers, and shelters for the homeless or goods distribution. Only through affection, will, and drive, these organizations try to reach out and help the young people to grow and become independent while providing the older individuals with a sense of dignity, security and assistance. As these organizations have placed the first brick to build the foundation of growth and development, it is our duty to play our part and assist these organizations to raise capital and provide support to these multiple distinct but equally important, noble causes.
REASONS WHY S.T.A.R.S CORPORATION INCORPORATES CHARITY
At S.T.A.R.S Corporation, we take charity very seriously. We live by the words of Isabel Allende, who said that we, the people, only have what we give. Since the company is already built on a foundation that is working towards the growth and prosperity of the people, it makes sense to each and every employee of the company to give to the less fortunate. Whenever anyone mentions charity, the first thing that comes to a person's thought is money. However, that is not always the case. Charity can take many forms and people can indulge in the sort of charity that they feel most comfortable in. People can give money, provide support, volunteer in a non-government organization, take an initiative that ultimately supports the people etc.
"No one has ever become poor by giving."
― Anne Frank, diary of Anne Frank
The S.T.A.R.S Corporation believes there are multiple reasons to incorporate charity in the company culture. Here we have listed down some of these reasons below:
MAKES YOU FEEL CONTENT:
When people give to the community, they are engulfed in a sensation of contentment. It allows people to feel satisfied with the fact that you have played your part in making this world a better place. It allows the individual to undergo a sense of unity with the community. Although, charity is a one way street, a person does get something in return: satisfaction. The feeling of being there for the people and lending a helping hand to those around you, makes you feel satisfied and content that you are playing an integral part in uplifting the society; driving people towards prosperity.
"The test of our progress is not whether we add more to the abundance of those who have much; it is whether we provide enough for those who have too little."
― Franklin D. Roosevelt
Here at S.T.A.R.S Corporation, we do not shy away from discussing how a capital driven mindset may not be sufficient to make an individual feel contentment all their life. If you think about it, no amount of money is ever going to wrap you in a feeling of fulfillment like charity can. Giving to those around us uplifts us as a company, as a society, as a community, and lastly, as a country.
STRENGTHENS PERSONAL VALUES/FAITH & RELIGION
According to reports, 96% of people that give to charity go through this process as they feel a sense of responsibility to give back to the community and make a difference in inequality; utilizing their own personal capital to help others. The act in itself is capable of strengthening the personal values of an individual. Selflessly giving to charity is often seen as a key component of various religions and the people of various faiths.
When we talk about Pakistan specifically, the majority of the population is Muslim, more specifically 96.28% of the population is Muslim. Due to the importance of charity in Islam, also known as Zakat, the act of giving to the less fortunate is not a foreign idea for the people of this nation. Giving to different charities or directly to the needy people around us, provides the individuals with a religious pleasure that they have fulfilled their duty towards the Al-Mighty. According to reports, almost 71% of the individuals who partake in charity pointed towards their religious belief systems as the key motivator and force driver for their unhinged commitment towards charity. This clearly portrays the correlational impact between charity and religion, as people are willing to give more in the name of religion and on the other hand, they feel that their religious values have been strengthened when they partake in charity.
CREATES A GREAT IMPACT
"Once poverty is gone, we'll need to build museums to display its horrors to future generations. They'll wonder why poverty continued so long in human society – how a few people could live in luxury while billions dwelt in misery, deprivation and despair."
― Muhammad Yunus, Creating a World without Poverty: Social Business and the Future of Capitalism
There are many issues that surface around us which require our attention. Some of the major issues irrespective of age and gender, are education, shelter, medical and health care, and food. These issues are beyond religion and nation, as they deal with humanity as a whole. Although, this in itself is usually a factor behind the act of charity, there are other reasons that play a role as well.
According to research, 61% of the people interviewed conversed about the impact of a personal, life-changing experiences that sparked their giving. When people go through life changing events, they realize that there is more to life than they usually contemplate about. A person is hit with the realization that there is so much more to life and they need to play a bigger, more significant role in this world.
"I alone cannot change the world, but I can cast a stone across the waters to create many ripples."
― Mother Teresa
Almost every individual who actively partakes in charity identified with a specific cause that they felt strongly towards and for 75% of the individuals this was the key influence behind their giving. S.T.A.R.S Corporation strongly believes that the impact of a life changing event in an individual's life is only the beginning. It is the first domino in a chain of events. This impact then becomes the source of more impact that is created by this individual in the lives of those around them. S.T.A.R.S Corporation does not force any of their employees to take part in charities as the company believes in charity being a consciously, internally driven act which should not be plastered onto an individual who is unwilling to take part. However, the company itself is an active charity giver, in an attempt to create a tide effect and influence the employees and other partners to do the same.
Charity also allows the people to create a huge impact on their way of thinking. When faced with the issues and turmoil that engulfs the lives of many, one is forced to look inwards and feel gratitude for everything that they are blessed with. It creates a consciousness about the little perks in our lives that we may be taking for granted. It allows the individuals to feel more blessed and optimistic about their standing as a person in the community.
INTRODUCES YOU TO THE IMPORTANCE OF GENEROSITY
"Hungry for love, He looks at you. Thirsty for kindness, He begs of you. Naked for loyalty, He hopes in you. Homeless for shelter in your heart, He asks of you. Will you be that one to Him?"
― Mother Teresa, In the Heart of the World: Thoughts, Stories and Prayers
Whenever a person takes part in the act of charity or goes out into the world to explore the issues that are being faced by people, the person is introduced to the importance of generosity. Dalai Lama infamously said, "If you want others to be happy, practice compassion. If you want to be happy, practice compassion." The same is applicable for generosity as well. As selfless as the act of giving away things of value may seem, it is apparent that being generous in life has a lot of benefits for the person as well. Every year, there are more studies that show the importance and benefits of being generous of the health of the individual. These benefits cater to both, the mental and the physical health of the person.
A research was conducted in 2003, at the University of Michigan. The research states that being generous has a direct impact on the reduction of perceived stress by the person, it magnifies the sense of purpose, assists in the support of one's physical health. Another similar study at University of Michigan kept following up on a study pool of 27,000 people for 10 years. The research concluded that generosity can impact the lifespan of a person. Men who had taken part in any charity or volunteer work had a 2.5% decrease in the death rate.
That is not all! A person who is generous feels better about themselves. It boosts the confidence of the person and deflects any thoughts about self-hatred or self-doubt. When an individual is more focused on what they are giving to the world rather than what they are receiving, they are able to create an orientation that is focused outward towards the world, rather than inward. This allows the individual to shift their attention away from themselves; the "I", and towards humanity as a whole; the "we". The individual then creates a more balanced and healthy level of self-awareness and compassion towards themselves, as well as the community.
PROTECTION OF LOCAL COMMUNITY
S.T.A.R.S Corporation strongly believes in the sense of community. The company has faith in the concept of collectivism and the team members of the company agree that there is strength in numbers. Organizations that are community centered and focused on a specific area and people are more efficient in the delivery of appropriate help and aid to the people in need. This is due to the fact that they better understand the requirements and the mindset of the people in that region. These organizations also tend to generate most of their capital through private funding that is done through the donations of the people. Hence, giving to these local organizations allows them the oxygen that they require to breathe life into the project and protect it from collapsing. This in turn enhances the community wellbeing. Taking part in such an organization keeps you more in touch with the community where you are located in, allowing you to make an impact by taking small mindful steps, starting from the people that you are immediately surrounded by.
"We have all known the long loneliness and we have learned that the only solution is love and that love comes with community."
― Dorothy Day, The Long Loneliness
CONCLUSION
A lot of people have the act of charity all wrong. People will, at times, give away their old belongings that are of no use and in no condition to be used by another person either. This kills the mere essence of charity as by doing so, you take away the dignity of the receiver. Charity is the act of helping a person by providing them useful things rather than simply giving away hand me downs that are useless for the giver as well as the receiver.
"A bone to the dog is not charity. Charity is the bone shared with the dog, when you are just as hungry as the dog."
― Jack London
A person should give in the name of charity but be mindful while doing so. Charity should be done in such a way that the person on the receiving end can maintain their dignity and not feel as if they are worth less in any manner. Whatever is being given away should still hold value for the giver as well. Only then, it is possible to savior the benefits of indulging in charity. When you start giving away in charity, you realize how big of an impact your contribution can make. What you believe to be a small amount might translate into a week's worth of meal money for an individual. A very small gesture can go a very long way when it comes to charity.
S.T.A.R.S Corporation believes that acts of charity, no matter how big or small, can immensely impact the company by providing the team members with more meaning in life. This drives the team members to work harder, knowing that they, as a company, are working towards making a huge impact on the lives of the people around them. This fills the team members with a feeling of contentment and joy that helps them to strive towards more effort and productivity. It also allows the environment of the company to be a lot more positive and friendly.